Bram Goffings
Job title:
Drupal Developer and Community Manager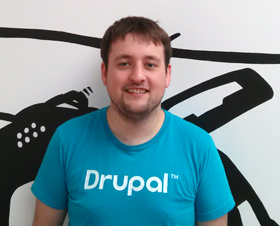 Bram is a Drupal developer and community manager at Nascom (Belgium). He became fascinated with Drupal while getting his computer science degree. Afterwards, he immediately started working at Nascom, where part of his job is preparing the Nascom team for Drupal 8. He is also a Drupal core contributor and co-maintainer of some modules, including Display Suite. Last but not least: he plays a mean game of ping pong.
Session title:
Display Suite: the future of your display
Session summary:
Drupal 8 is just around the corner. And while everyone is anxiously waiting for the release, contrib land is catching up and preparing all their precious modules for the newest Drupal version.
In this session we will explain what has changed in Display Suite and how we used the brand new drupal 8 api's to increase the quality of the Display Suite code. "The future of your display" comes with a new api. Examples will be shown and there will be time to discuss the api so we can improve it if needed.
We will also talk about the functional differences of the Drupal 8 version of Display Suite.
Some keywords: config, plugins, twig, form modes, ...